There was a time when hotels were the first to bring the latest technology to their guests. When TVs were not yet an affordable everyday product, hotels introduced TV rooms where guests could watch the TV program together. Later, every hotel room was equipped with a TV set, long before a TV appeared in every living room.
But hotels have not been trendsetters for quite some time. While you can already find smart home installations and voice assistants like Amazon Alexa or Google Home in numerous homes, you look in vain for such standards in hotels. But there are good reasons for this.
Obstacles of the Smart Hotel
Until recently, a smart hotel room has required an enormous amount of planning, IT and cost.
Expensive Wiring
Every actuator, such as light switches, sockets, heating and air conditioning, must be networked with each other. In professional installations in particular, this is (almost universally) done by hard-wiring. This means that a cable is laid to every actuator, every sensor and every device.
In addition, the cabling of the actuators often does not remain locally in the room, but is in some cases planned to run together in a central server room in the hotel. This means that at least two cables run from each hotel room to a central room in the hotel basement.
If you add up the cost of wiring alone for several dozen or even hundreds and thousands of hotel rooms, you quickly reach immensely high sums.
Proprietary & Suboptimal Radio Solutions
Lately, wireless radio solutions such as ZigBee or Z-Wave have partly been used in professional installations. But the problem here is that every ZigBee or Z-Wave network requires a central gateway. This makes an installation in hotels complex and extremely time-consuming to install and maintain. Moreover, especially in larger hotels, one encounters limitations in range and in complexity. A hotel with several hundreds of rooms can rarely be implemented satisfactorily.
Complex Software
However, simply wiring actuators and devices does not make a smart hotel room possible. This requires software that can be used to automate meaningful use cases or apps that the hotel guest can use to control the hotel room. BUS cabling is often used, which in turn can only be programmed and automated with complex software and appropriately trained employees or service providers. These BUS systems, in turn, often have to be linked to the hotel's building management system at great expense. In short, both the technology used and the complex software make it impossible to implement the smart hotel room cost-efficiently.
Complex Retrofitting
Until now, retrofitting was hardly possible because it is very costly to install cables for the smart upgrade of the actuators. To do this, walls must usually be torn open and then plastered again.
Bluetooth Mesh in the Smart Hotel Room
Bluetooth Mesh solves the existing obstacles of the Smart Hotel Room in a single stroke. The use of Bluetooth Mesh eliminates the need for expensive wiring of the actuators. Thus, it is also possible to turn any hotel room into a Smart Hotel Room in a retrofit by simply replacing the actuators.
Bluetooth also greatly simplifies the initial setup, automation and also subsequent modification of the system. Since every smartphone and tablet has Bluetooth, the entire network can be set up within a few minutes and small changes can be made in a matter of seconds. This does not require a trained specialist with expensive software.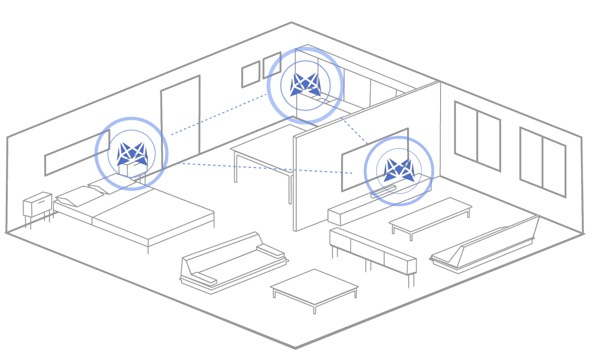 Because Bluetooth Mesh does not require a gateway or a central hub, each hotel room can be a completely self-sufficient network. It is not necessary to install hardware apart from the actuators themselves in the room. Thus, there is no need for a dedicated server room where cabling and servers are installed.
Offline Setup and Configuration
Bluetooth Mesh offers great added value already in the setup and subsequent modification of device configurations and automation, as these can be carried out within a few minutes or even seconds without specialist knowledge, without a laptop, and without paid software.
The MESHLE app can be used, for example, to subsequently specify which lights or actuators the switch next to the bed controls, such as whether the switch turns on or off only one light or all lights in the hotel room. A welcome light can also be set so that the lighting in the hotel room "ramps up" slowly and pleasantly.
IoT-Ready Buildings
In a similar dilemma as hotel operators are also established project developers. Not only for hotel rooms it is too expensive and too complex to wire all actuators and sensors with BUS systems, but also for entire buildings – be it hotels, office buildings, or mixed-use properties – BUS wiring or a proprietary radio-based solution is undesirable.
Bluetooth Mesh is proving to be a future-proof technology for networking individual hotel rooms up to entire buildings. With the "Qualified Bluetooth Mesh", an international, open standard for building networking is currently establishing itself, with which billions of devices are already being delivered today and in years to come. No matter whether it is about the networking and automation of lighting, blinds, sensors or HVAC, Bluetooth Mesh offers a robust, internationally standardized radio protocol for all important use cases.
Cloud Applications
Another advantage of Bluetooth Mesh is that an integration into the hotel-internal network (Intranet) as well as the Internet are optional. Even if one decides to embed the network into the Internet or Intranet, it is not necessary to approve and maintain each individual device with its own IP address in the firewall. Only one standardized Bluetooth mesh – Wi-Fi gateway is required, for example, per hotel room, or – depending on the application – per building section, to securely connect all actuators and sensors to the cloud.
The cloud expands the functional scope of a Bluetooth Mesh installation. For example, open property management systems (PMS) can be connected via the cloud without much effort. This means, for example, that the heating only heats to the comfort temperature while a guest is checked in. A MESHLE guest control system can also be installed through the cloud, allowing guests to control their hotel room with their own smartphone without having to download an app.
Résumé
Bluetooth Mesh is not only an interesting and future-proof technology for the smart home or smart building. It has many advantages, for hotel rooms in particular, which are much more difficult to realize with conventional technologies. Bluetooth Mesh enables a decentralized yet fully automated and smart hotel of the future.
MESHLE GmbH and other partner companies offer hotels both the appropriate hardware and, in particular, software focused on the needs of hotels and their guests.