Bluetooth Mesh LED Controllers
How does Bluetooth Mesh work?
Devices with integrated Bluetooth LE chip and MESHLE firmware can be controlled directly via a smartphone or tablet. There is no need for an internet connection, central station, WLAN router or additional cabling.
All MESHLE devices function independently and automatically create a network among each other.Several networks with devices can be created and individually secured with a password.

Already a single device can be controlled via Bluetooth with the smartphone. Simply download the MESHLE app and connect the device in the app.
All connections are securely encrypted and meet the most advanced security requirements.

Once installed in a network, the devices connect automatically and extend the network as well as the radio range.

A mesh network based on Bluetooth is very reliable and fail-safe due to its structure.

All modules function independently and set up a Bluetooth mesh network automatically without cabling or a WLAN router.

Optional cloud connection
Optionally, a Bluetooth mesh network can be connected to the cloud. This enables remote and voice control, among other features.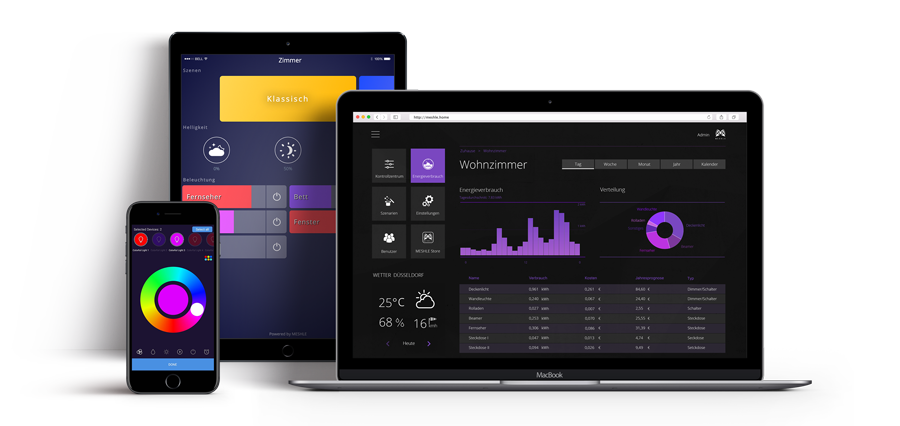 There are different ways to access the network control depending on the application:
MESHLE App (Android oder iOS)
MESHLE Web-App (Mobile PWA via Browser)
Voice control (like Amazon Alexa)    
With MESHLE Gateway into the Cloud
There are many reasons why a connection to the cloud makes sense. It not only enables voice and remote control, but also practical features such as monitoring the status of the device.